Travelling can be a delight: meeting new people and new locations, seeing – in the words of Willie Nelson – things that I may never see again. Travel gives perspective by showing you diverse parts of the world, different experiences, and varied ways of living. But increasingly everything in Britain seems similar. Pubs have basically the same menu across the country (steak, haddock, scampi, or the token Italian dish) and the same few beers in every bar. Every village across England and Scotland has a supermarket with a familiar layout selling familiar brands. Tescos and Sainsburys are copied and pasted across the country.
In Real England, Paul Kingsnorth examines how the homogenisation of culture is causing us to lose important things – things without economic or political value but which are important nonetheless. The book doesn't hold to the traditional canon of 'liberal values' and for this reason it could appeal to people across the political spectrum. Whether we occupy the Right or the Left, the book begs us to encourage diversity of food, drink, places, shops, and people.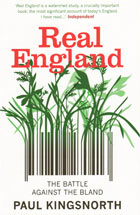 The book covers a lot of ground and raises a lot of good questions. It considers topics from the benefits of an English parliament to why only wealthy retirees can afford to live in the country now; from the sins of the supermarket chains to the 10,000+ varieties of apple to be found in this green and pleasant land; from real ale to Chinatowns. Real England asks why we are destroying anything that doesn't increase market share or return an investment. It tells us that there are more important things that the pursuit of profitability: diversity, character, sense of place, nostalgia, whimsy, freedom to live our own lives. Real England surveys this unique country and asks why we are allowing that uniqueness to be taken away.
An important lesson to be taken from the book is that all people are different: we don't all want the same lifestyle or, in Claude Lévi-Strauss' words, the same dish served to us every day. Some of us don't want to live in an inner-city apartment drinking Bacardi Breezers off a glass-top table while watching Sky TV – some of us want to sit outside a country pub drinking a local whisky and reading a book. Some of us don't want the lives that we see on TV – some of us want to carve our own path. Some of us don't care about the acquisition of money – some of us want peace and quiet. Yet we are funnelled down a set path because the corporate executives and media moguls with all the development power want the former kind of life: the marginalised few are told that they should want it and are forced to live it. Because those who don't buy into the capitalist system sought solitude and peace rather than power and attention, the urban environment and boardroom attitude expands. "Whenever something is wrong, something is too big." – Leopold Kohr.
The book makes you question your assumptions. We are routinely told that progress = good, stasis = bad – 'a rolling stone gathers no moss'. But what is the reasoning behind this? Preservation of conservative values (with a small c) can be beneficial if there is something of value to them. Does constant march towards the future and away from the past guarantee happiness, fulfilment, eudaimonia? Or could George Orwell have been right that maybe our grandparents were better people than us?
Real England is a fascinating and disturbing book, no matter which political party you ally yourself with. It doesn't have to be an indictment of capitalism: I just happen to read things from my liberal socialist perspective. All it asks of the reader is whether we want all the towns in Britain to be the same. If not, then we need to take action: support local businesses, encourage difference, and endorse community interests over corporate interests.